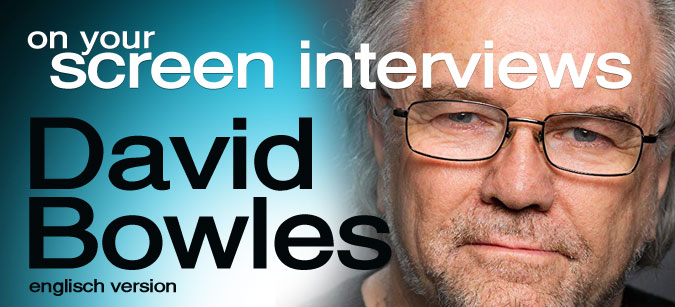 Artikel vom 06.06.2019 | Rubriken
Onyourscreen interviews: David Bowles
David Bowles, known for his role in Ninja The Protector
Today we are dedicated to a very idiosyncratic genre in the field of martial arts. As we are about to release a special feature about the Ninja films from the IFD Film Arts, we got the chance to interview David Bowles. David Bowles played the opponent "Bruce", who competed in the successful "Ninja The Protector" against Ninja icon "Richard Harrison".
Since it is a very special field, which has a not to be underestimated fanbase, it is an honor to be able to speak with one of the actors from this time personally.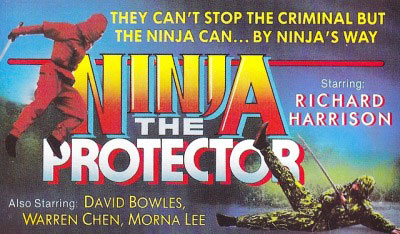 © IFD


Onyourscreen:First of all, I would like to warmly welcome you and thank you for taking the time to speak to the fans around the broad topic of "IFD Films" and its countless ninja flicks. You are a British actor who can look back on a quite presentable portfolio. Among other things, you made films with Curt Jürgens, Maria Schell and Oliver Reed and have also contributed in Shakespeare adaptations.

Fans of the IFD Ninja know you as an opponent of Richard Harrison in one of the most internationally successful and probably most famous Ninja movies "Ninja the Protector". In that, you play the businessman who has become an indirect cult "Bruce", who also adapts from a Canadian fan page and was honored in numerous clips under "Ninja - The Mission Force". 

David Bowles: Thankyou, Frank.. I am very surprised at the 'cult' following you say I have as 'Bruce' - I didn't realise I had such a following. Perhaps one day I will be able to meet my fans and greet them all personally. 

Onyourscreen: Please tell us briefly how you came to Joseph Lai, what the time in Hong Kong has given you so personally and why it has remained with just one movie with Joseph Lai.

David Bowles: At the time (1985/86) I was staying briefly in Hong Kong (at the Sheraton Hotel in Kowloon), and I was reading the local English newspaper when I saw an advertisement for 'Actors for a film'. I didn't know then what the film was called. It later turned out to be NINJA THE PROTECTOR. I contacted them (Joseph Lai/IFD) and they offered me the leading role of BRUCE to star opposite their well known star of Ninja movies, American 'Richard Harrison'. I didn't know Richard then, but we (Richard, his wife Francesca, and myself) all became firm friends over the time of shooting the film and remained so afterwards. - I also loved Hong Kong and the Chinese people...and actually filming in the different locations around Hong Kong such as Kowloon, Shatin (The New Territories), etc., allowed me an insight into some of the many traditions and places of that area. ... Maybe in some ways it also helped me immerse myself into the 'Ninja' role. I will always remember those legendary words..."Only A Ninja can defeat a Ninja !" :) But after filming I had to leave Hong Kong for Malaysia and then later South Africa and the Caribbean so I didn't get chance to go back and do another film with them. But I would love to one day again, if they invite me :)

Onyourscreen: How did the shooting work for you? Was it pleasant with the crew or were there often discrepancies? It should not always have been easy under Godfrey Ho, if you hear other actors times like this. How was it for you?

David Bowles: Joseph Lai, Betty, and Godfey Ho and the whole team at IFD were great and wonderful to work with. They were all obviously well-versed and experienced in their art of scripting and producing Ninja movies and martial arts movies and maybe it is this pedigree of making such movies for the Chinese and international markets together with Richard's fame as a famous star from his previous Ninja movies for Joseph Lai that led to 'Ninja The Protector' being such a great success with the people, the fans, and the film world in general.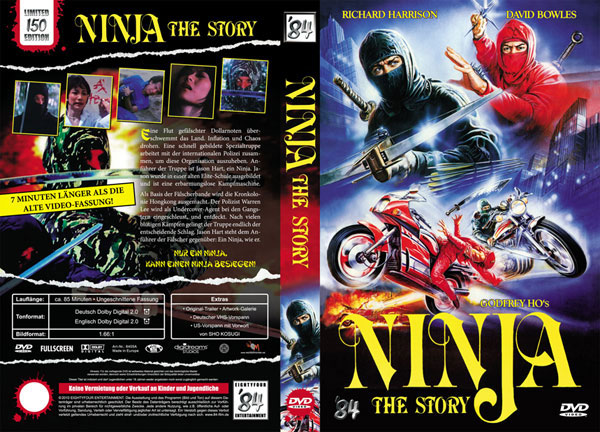 © 84


Onyourscreen: You were lucky enough to work with Richard Harrison. How did you perceive him as a person? What was Richard for a human and did you meet outside the shooting days?

David Bowles: As I mention above, Richard and I became firm friends over the time of shooting the film and we all remained so afterwards. In fact I have since visited Richard and Francesca several times at their lovely home in Malibu in USA and have the greatest fondness for both of them. Hopefully we will all meet up again soon. As a person, Richard is a great guy. He is a star in Hong Kong and within the Ninja movies as well as in his own right in USA. When shooting on set we had many laughs but also when relaxing afterwards we all ate and drank together socially many times when shooting was over ... As Richard's wife was with him at the time quite often they would go off and do their own thing. But as soon as shooting started again the next day we were both back in our characters - in our 'Good Ninja versus Bad Ninja' modes. :) 


onyourscreenSHOTs

Onyourscreen:Joseph Lai works almost exclusively with "Doubles" on the acrobatic Ninja interludes and who then took over the acrobatic parts. How did the interaction with the Double take shape and do you yourself have experience in the Martial Arts area? 

David Bowles:  I do have some martial arts experience myself in such as Karate, Aikido, and a little Tai Chi. But my experience is nothing compared to the masters that Joseph would bring in as 'Doubles'. Working alongside Philip Ko and the other members of the 'Doubles' team on the film was an amazing experience. Their skills were phenomenal. I think we all interacted amazingly well together; particularly on the somersaulting and in the motorbike scenes. Both Richard and I can ride motorbikes... but as for the acrobatics? That was up to Philip and the other Doubles on set. 

Onyourscreen: Joseph Lai has often worked without proper filming permission in the past and has also shot in public parks, as well as at Kowloon Park in Hong Kong. How was it with you? Can you remember if there were problems with the shooting? 

David Bowles:I personally never saw or heard of any problems regarding locations or shooting. But then again Richard and myself and the other actors had our own roles to play. We were just busy going over our lines and being ferried back and forth to the various sets. The locations and shooting were the responsibilities of Joseph and his Production team. - One thing I do seem to recall is that somewhere during shooting I think may have filmed TWO death scenes for Bruce...lol.....so I was always curious if Bruce could have ever ended up in another of Joseph's films in addition to Ninja The Protector ! :)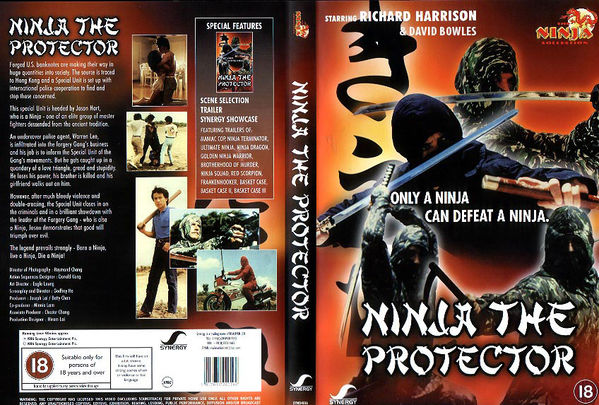 © Synergy


Onyourscreen: The final battle begins on motorcycles, a totally unusual and unique idea that has been picked up there. How did you react to this idea back then, and did you both agree with that, and did you and Richard agree, or did you have little say in how the fights themselves were drafted?

David Bowles: Again, we as Actors just played our roles according to the script. But yes it was interesting and exciting to use the motorcycles rather than just cars. I agree with you in that I think it added a bit more uniqueness to the film..and to the modern day combats and fights between Gordon (Richard) and Bruce (myself)...the two warring Ninjas. 

Onyourscreen: Besides Richard Harrison, Philip Ko was also on board as a ninja, one of your subjects. Do you remember him and what kind of guy was he?

David Bowles: I seem to remember that Philip was an amazing actor, stuntman, and gymnast. He was quite small build. But he was also lively, funny, and yet very humble. A great guy with so many special acrobatic and martial arts skills and vast experience in his art. He and his stunt team were essential for Joseph Lai to get the results he needed in his Ninja films ... and particularly in this one - Ninja the Protector.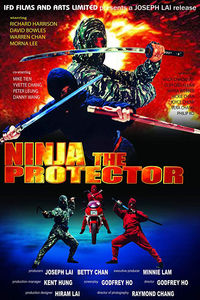 © IFD


Onyourscreen: How can one imagine this as a fan and an outsider? Did you do anything together after the filming in Hong Kong, or did you ever go your own way?

David Bowles: After filming we (the Crew and Cast) would often go for meals together and share a bit of quality time outside of shooting. But then everyone also had their private lives and their families to get home to and we all respected that. I loved the sights and excitement of Hong Kong and many nights would wander around the city and around Kowloon on my own....just taking in the aromas, the hustle and bustle, and the mystique.

Onyourscreen: What did you do after your professional career after "Ninja-The Protector"? Did you stay in Hong Kong or what direction did you take?

David Bowles:I am still an Actor and always will be....I love it. But after Hong Kong I travelled to other countries and worked in such places as the Caribbean, South Africa, Middle East, Malaysia (Brunei), USA, and Europe. I have never managed to get back to Hong Kong since then, but within Asia I did manage to visit Singapore, KL (Kuala Lumpur); and I also visited Beijing a couple of times where I was fascinated to visit the sights such as the Great Wall, The Great Hall of the People, and The Summer Palace and to hear all the various dialects from Mandarin to Hokien and so many others. I particularly liked to see the ancient histories and mysteries of China and the Chinese people; of the Buddhists and other religions; of the Tzu Wei and of other Chinese beliefs and traditions. 

Onyourscreen: What memories do you have in retrospect of "Ninja- The Protector" and this great time of the glorious 80s? Would you do it the same again today?

David Bowles: My memories are of filming with a great crew and cast in a location which was so exciting. At that time I had also never been to Hong Kong before. I arrived just before the film. I remember flying in over Hong Kong to the old airport...I must admit I had a terrifying memory after the film when flying OUT of Hong Kong the first time because when flying from the old airport, the plane took off from the runway immediately over the sea and then immediately banked over hard in order to swing around in a 'U' turn to climb out over Hong Kong ....and that was terrifying ! The last thing anyone one wants to happen is for a plane to make a sudden move when taking off and I wasn't ready for it :) - Even a NINJA can have his fearful 'moments' ... LOL :)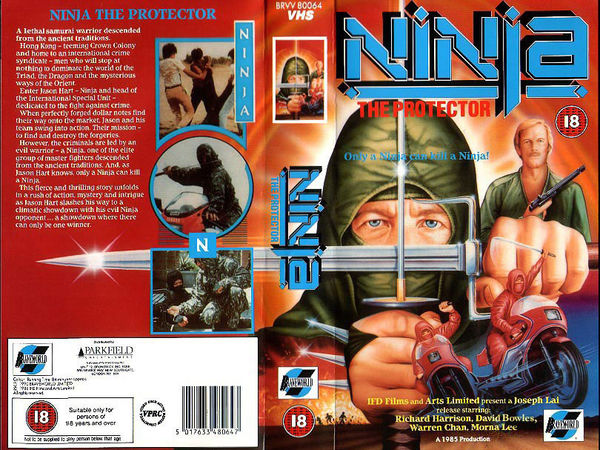 © IFD


Onyourscreen: Do you have any contact with Richard Harrison or any of the other actors today?

David Bowles: Yes after the film I have always remained friends with Richard and Francesca and visited them when I went over to USA. Unfortunately, as I live in England now, I haven't been back to USA in recent years but would definitely like to catch up with them again if I do manage to get back to Los Angeles in the future. As for the other actors on the film (some of whom I didn't manage to meet because of shooting schedules) I have never maintained contact. But I do hope they are all well and happy and have fond memories of shooting Ninja the Protector. 

Onyourscreen: What is your private life today? Where do you live now and what does your family say about your former role as "Bruce" and the collaboration with Richard Harrison?

David Bowles:I live in England (in Cheshire, near Manchester) with my partner Rosanne and our family. I am still very much an Actor (but also a Producer and Writer now as well). In fact we do have a major project currently under discussion at the moment with major studios in America, but unfortunately I can't say anything about that at this time. However if everything happens as we hope and further news comes out I will let you know. :) My mother always said to me "Why don't you get a proper job? "...But I think I have done quite well so far in the 'Acting' game.:) And maybe I also still have a future career as a NINJA (lol) if my fans in China, and Europe (especially Germany), and across the world continue to support me…or at least continue to support 'BRUCE' ! Likewise I would also like to take this opportunity to thank Joseph Lai, Betty Chan, Godfrey Ho and all the IFD and AVV teams and the cast and crew of Ninja The Protector for their help and artistry in making the film such a success. Plus I would also like to thank yourself Frank for the opportunity of this interview. Thank you All! 

PS I would really love all fans to visit my IMDb website link: https://www.imdb.com/name/nm0101228/ where you will find link to the film.

Bruce's legend prevails: "BORN A NINJA, LIVE A NINJA, DIE A NINJA !!!!!" - (or just maybe Bruce has not died... yet :) LOL.

Onyourscreen: A little obituary from David and Onyourscreen.de. As David told us, Philip Ko sadly died in 2017. Even if some time has passed ... we wish the family and relatives all the best. We have lost a very big actor who has thrilled us all in the vast world of martial arts. Philip was a familiar face in the IFD Film universe and we always like to remember him and his numerous films. 
© Text: onyourscreen.de / Frank Deutscher-Heister